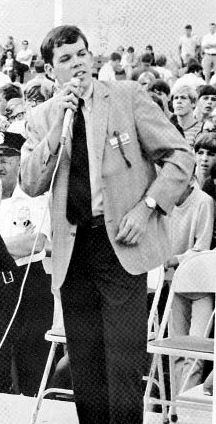 Mike has been a DJ since the late 1950s
Unlike the modern "Club DJ," the 15 year-old Mike was hidden away in a room at a small town Ohio YMCA where he played 45 rpm records on a single turntable and used a crude crystal microphone to announce them for dances, then called "record hops." Beginning in 1960 he was a DJ and news reporter over WOUB and WATH in Athens, Ohio. AM. Between 1963 and 1973 Mike played the hits over classic AM top-40 station, "The New WCOL" in Columbus. This made him want to go to graduate school!
Mike has been the WCOL historian and that collection can be found by clicking here. (I am trying to move the entire "old site" to this one, to WordPress. It will be awhile.} Since 1988 Mike has been the Faculty Advisor to KSJS-90.5 at San Jose State University, department of Radio-TV-Film.
Mike has just completed the book Columbus Radio for Arcadia Publishing, Images of America series. Get your copy today!
Below, the late Dan Morris was WCOL DJ, Program Director and General Manager.
Below, the Rebounds as photographed by Bill Rosser. Hear their hit on YouTube